BENEFITS FOR THE SCHOOL/TEAM
A place to track all your goals
Full report for every child fully ready for Ofsted

Fully measurable & accurate performance evidence ready for parent/teacher evenings which limits paperwork that provides accurate progress tracking for a perfect child development plan.
Start Your Training Today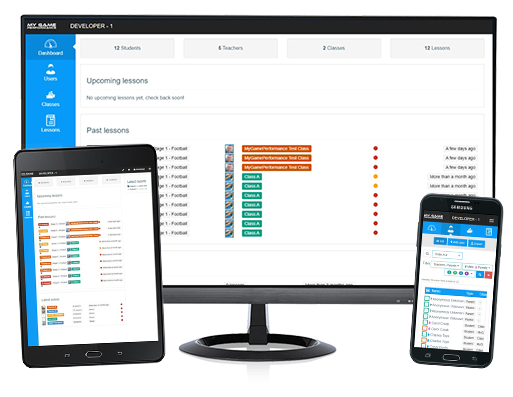 THE ULTIMATE PERFOMANCE TRACKING SOFTWARE
Our application gives up to date information on progress to engage participation where the system encourages people which creates greater confidence by highlighting individual strengths in a attractive dashboard
Sign up today
BENEFITS FOR THE SCHOOL/TEAM

My GamePerformance tracks sports performance data for every child and shows their scores on an attractive individual dashboard.

Allows teachers or Sports leaders to download class registers so every child's performances can be tracked at the click of a button.

Teachers can choose from a comprehensive list of easy to understand PDF lesson plans to create a class diary of lessons taught that are Ofsted prepared.

Lesson plans show coaching points to be taught and these coaching points show up on each child's individual dashboard.

Teachers or sports leaders can watch short, simple video clips and diagrams supporting lesson delivery.

Class fitness or skills tests can be selected and easily performed with the teacher gathering the data at the click of a button and scores imported directly onto each child's individual dashboard. Each parent is notified automatically that their child has taken a fitness or skills test.

End of term individual assessments can be completed within seconds saving valuable teacher time.

Reports created ready for Ofsted inspection

The system automatically creates reports that are Gender or age specific showing performers that excel at specific areas
BENEFITS FOR THE CHILD & PARENT

Gives up to date information on progress to engage participation on an attractive individual dashboard

The system encourages development by showing individual strengths

Creates greater confidence & pride in children

Attractive personalised performance dashboard Shows coaching points for each lesson to aid learning

Email confirmation to parents that their child has undertaken a PE assessment & informs parents of what their child is doing in "real time" These updates engage parents to discuss lessons with their child
BONUS
F.A.S.T. (Flexibility, Agility, Speed Training)
Once your school signs up for our licence you can access our F.A.S.T. Development Programme
During curriculum P.E. lessons or part of a gifted & talented programme our F.A.S.T. Programme will deliver specific drills which will enhance the development rate of each participant in a fun and dynamic way which is appropriate to each sport & age group. Combined with our Data recording you will see phenomenal improvement results
Sign up today!
Find out how our platform is just what you need to start tracking performance
something went wrong
your message is successfully sent...
Essex,

London

United Kingdom

info@mygameperformance.com

support@mygameperformance.com
sign up for emails and
get in on all the action